If you have never been tomato tasting here's your opportunity,
another don't miss!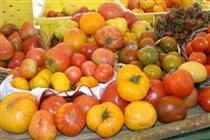 Sunday ~ August 16th, 2009
4 ~ 7 pm
Tyson Hill Farm in Waterford
Go join the potluck with your favorite dish, table service, blanket and chairs. There will be sampling of over forty varieties of tomatoes, including heirlooms, old & new favorites and trail varieties!
Tyson Hill Farm is just west of Waterford city limits. From Hwy. 132 (Yosemite Blvd.) take Blossom Rd. south. The farm is about a mile down on the right, look for the signs!
For more information, contact:
The Tyson/Clark Family
874-2498
The Kline Family
874-5113
The Seifkin/Kerr Family
664-9944